Easily
automate
your WooCommerce store with Van der Meer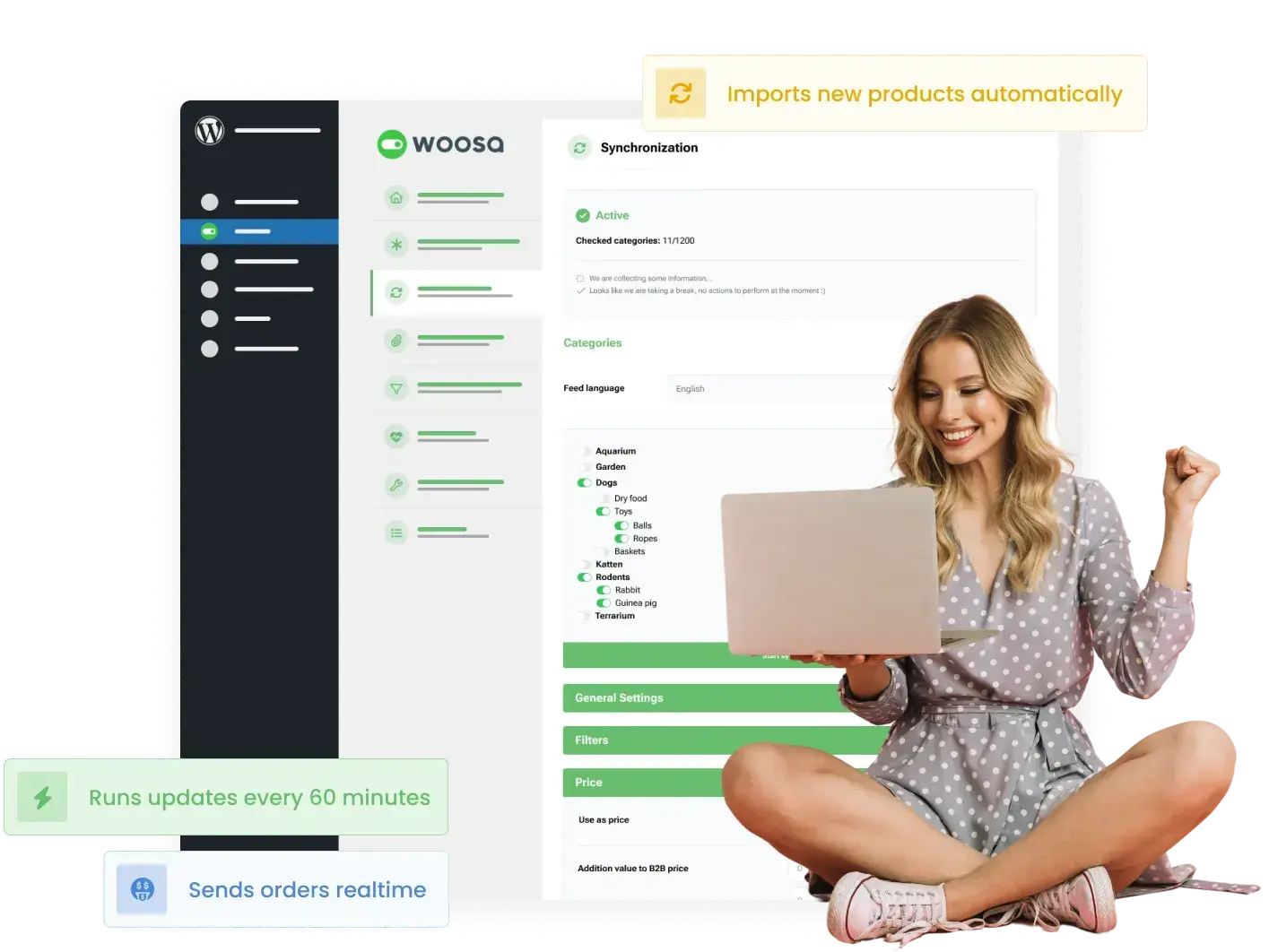 Easily Automate your WooCommerce with Van der Meer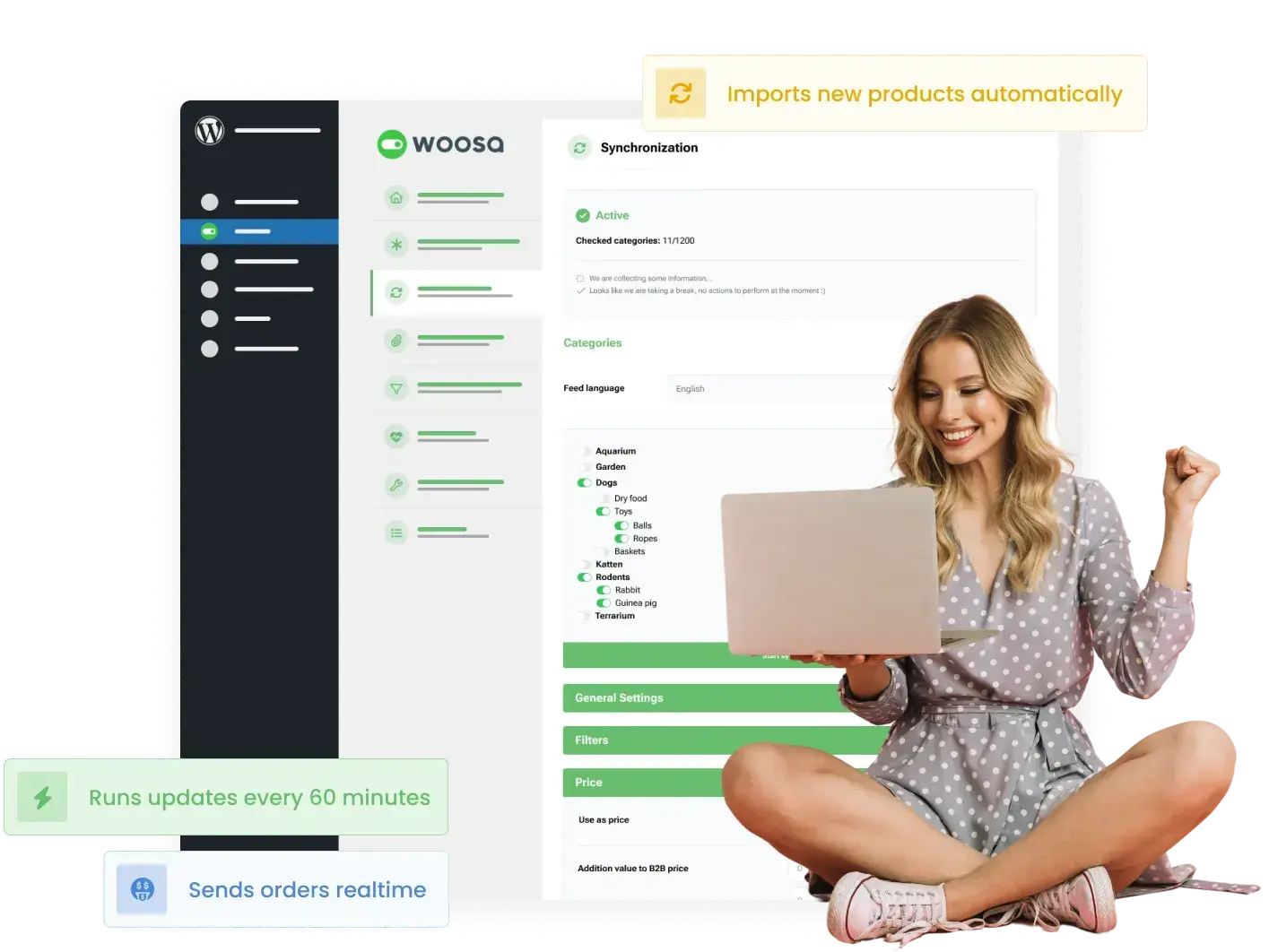 revenue generated with Woosa
Save hours and
maximize your productivity!
Jessica Rish is the driving force behind Woosa. Together with a team of top-notch WordPress developers, she developed WooCommerce plugins for online entrepreneurs who want to automate their (dropshipping) business. Our goal is to simplify and automate 97% of the processes, that come with having an online business. Instead, focus on what really matters: revenue.
What
1,500+ happy customers

say about Woosa
We have a great collaboration with Woosa. We use several of their plugins and have been very satisfied with them so far. An organization that continues to develop is very important for WordPress plugins.
Woosa delivers top notch plugins and support. Thanks to them my webshop runs smoothly. Their plugin is very intuitive, instead of many other difficult tools.
The Woosa plugin really is a relief. I first tried a connector from another company, but that didn't worked as well. Woosa's solution is sturdy, and saved me a lot of time for other stuff in my business.
Build a solid Dropshipping Store with WooCommerce.
Exclusively for people who want to sell Pet Supplies with the Van der Meer platform.​
Online within minutes
We focus on speed and efficiency. When following our User Guides, your Dropshipping store can be up and running within minutes!
Created for ambitious entrepreneurs
Woosa automates all necessary processes. This means you will save multiple hours a week, which you can then spend on more profitable business opportunities.
Frequent product updates
Our Dropshipping plugin for WooCommerce handles the complete product management, including stock, price and content updates every 30 minutes.
No more technical hassle
The interface of our plugin is designed for user-friendliness and efficiency. Lately, we synced 6,000 products within 30 minutes for most clients!
Unlimited support
Team Woosa believes in the statement: all or nothing. Therefore, all our customers experience the exact same service level and time to respond.
Integrated with your WordPress store
No extra accounts, no extra platforms. Manage everything within your WordPress backend, the one you know best. 
Try Woosa now for free!
During the 14-day-free trial period, you will have access to all functionalities of the Van der Meer WooCommerce plugin and Unlimited Support from our Support Specialists.
There are no obligations; you can cancel at any time.
Try Woosa risk-free for the first 14 days. This allows you to try our plugin and see if it fits your business. After those 14 days, you can cancel your subscription at any time. We guarantee that there are no strings attached. Because, no one benefits from you having a plugin that doesn't suit your business 😉
FAQ
We are glad to answer the Frequently Asked Questions about our Van der Meer WooCommerce plugin.
What happens if I am not satisfied?

If you start with Woosa, you receive a 14-day free trial period. If the plugin doesn't suit your situation, you can easily cancel your subscription to your Woosa account. Once your subscription is canceled, we won't charge you. No strings attached.

Even after the 14-day trial period, you can cancel your subscription anytime. We like to keep it simple and transparent!
How does the import works?

Within the settings of the Van der Meer WooCommerce plugin you can select which product categories you would like to be imported. Based on the selected categories, we will import all the products within that particular category.

 
In which countries can I sell products?

Van der Meer supports the Netherlands and Belgium as a country to ship to via their dropshipping model.

 
Are orders automatically transferred to Van der Meer?

Yes, based on the settings within the Van der Meer WooCommerce plugin.

Based on the trigger you configure in the settings, an incoming WooCommerce order will be transferred automatically. You can also choose to do this manually, if you like.
Can I send the track & trace to my customer?

One the order is shipped by Van der Meer you will receive the track & trace of the shipment. In this way you can inform your customer about the status of the order. The track & trace will be shown within the particular WooCommerce order as a Custom Field, with that you can add the field to an e-mail template and inform your customer.
Which information will be synchronized automatically?

Our Van der Meer WooCommerce plugin knows which products you have imported from Van der Meer to WooCommerce. We also see when Van der Meer does a change in the XML feed, for that particular product. The following product information is automatically updated:

B2B price

Price
Category
Images
Title
Description
Stock

Are you planning to change the product information such as title, description, images and category? Then you can enable the option – within the plugin settings – to not update that information automatically from the XML feed. To prevent that your changes will be overwritten.
Can I sell the Van der Meer products also at marketplaces?

Yes, you can sell the Van der Meer products to any marketplace you would like. Our plugin imports all the necessary data, such as EAN and SKU codes.
What are you waiting for?
Start your own Pet Supplies store with Dropshipping today!